Swimming ability is a prime factor in surf life saving.  Surf Life Saving events have been designed to encourage nippers to keep fit and train them to become our future life savers. Some of the common events include: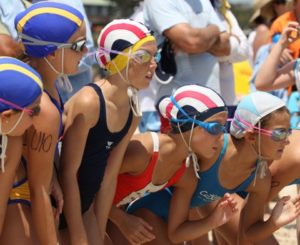 Surf Race – the Surf Race involves swimmers starting on the beach and then running, wading and swimming out to sea, around a set of buoys and then return to the beach. The event concludes with a run finish to the flags placed on the beach.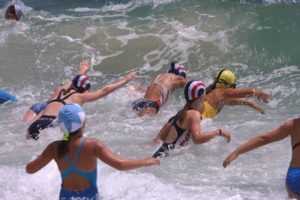 Wading Race – the wade race is a popular amongst younger athletes and involves running out to an allocated a turning mark at knee depth water and then the competitors may either wade, dive or swim along the beach to another marker before returning to the beach to run to the finish line.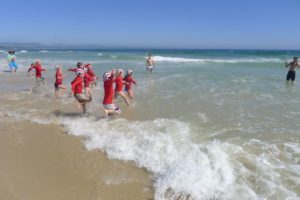 Wading Relay – the wading relay is a four person event where competitors complete the wade race one at a time and tag the next person who then continues on. The race is completed once the fourth and final team member finishes the wading course and runs up the beach to the finish line.
The Surf and Wading Races are direct tests of physical ability in and around the surf environment.